Park Towne Beverage is a family owned and run business since 1974. We are fully stocked to meet all of your party needs. We have a full selection of Domestic, Imported, Craft, Multernative Beers in cases and now in 12 PACKS, 1/6 kegs, 1/4 kegs and 1/2 kegs. Also a large variety of N.A. Beers, Soda, Water, Teas, Sport Drinks, Ice, Snacks, Cups, Coolers/Tubs and Tobacco products. If you don't see the product you want let us know and we will special order it for you.
You can play your PA Lottery here!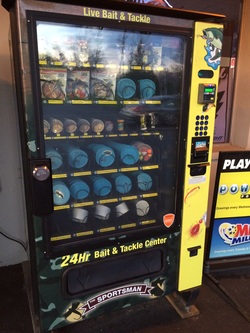 GET YOUR LIVE BAIT HERE!!

CHECK OUT THE NEW BAIT & TACKLE MACHINE! IT'S LOADED WITH ALL OF YOUR FISHING NEEDS!

IT NOW ACCEPTS CASH OR CREDIT/DEBIT CARDS!!!